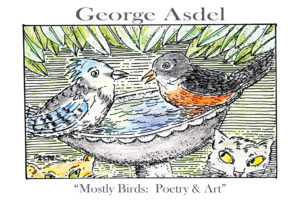 Guest Artist:
 GEORGE ASDEL
Opening Reception: 
FRIDAY, JANUARY 12th, 2018  from 5pm to 8pm
Type of Art:  
FINE ART DRAWING &  PAINTING
Exhibit Beginning:  
JANUARY
 1, 2018 
Exhibit Ending:  
JANUARY
 29, 2018
Location:  
GALLERY AT MARINA SQUARE, 601 EMBARCADERO, SUITE 10, MORRO BAY, CA 93442
Event Contact Number:  805-772-1068
Artist Statement: 
George was raised in Monterey Park, California, obtained an art education at East Los Angeles College, and C.S.U. Los Angeles and Fullerton, and now resides in Atascadero.

George has taught art at the Hibbs' Cove Art Centre in Newfoundland, Canada, and at the Charles Paddock Zoo. He has owned art galleries, and his scenes of fishing villages have sold to collectors from around the world.

George is a member of the Central Coast Printmakers and OPAG. He enters art shows, helps in the schools, illustrates books and greeting cards, and is a published author.
FINE ART DRAWING by GEORGE ASDEL